Tamara Mostert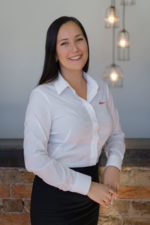 Senior Property Manager
Tamara started her journey back in 2013 in Townsville, where she quickly realised she had a passion for property management and all that this industry has to offer.
 Tamara is very passionate about providing exceptional customer service based on trust, respect, integrity and empathy.
 She has a positive can do attitude and strong work ethics, plus a background in customer service, which is an advantage in this industry.
Tamara is a strong believer that communication, honesty and customer service are essential in order to develop and nurture relationships with both owners and tenants a like.
 Having recently moved to Toowoomba and becoming a member of the Elders Toowoomba Property Management Team, she looks forward to using her knowledge and experience to ensure owners have peace of mind that their property is being looked after.
07 4633 6500
07 4633 6556
0409 264 435